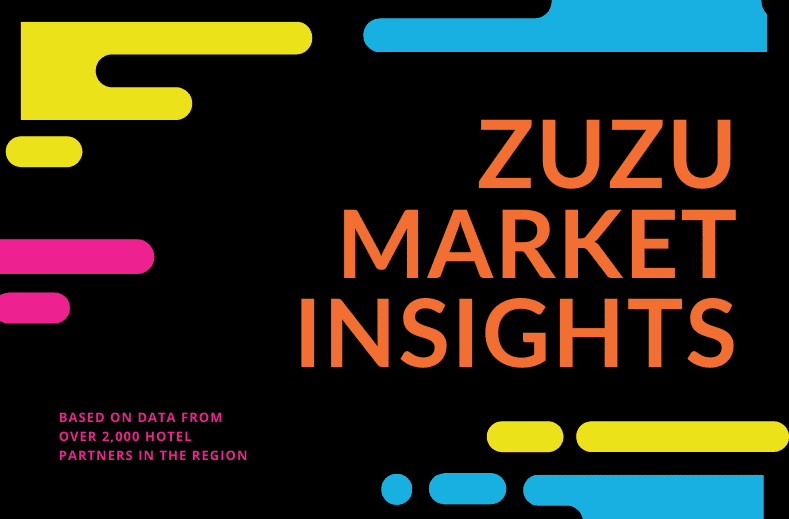 As COVID-19 continues to persist, we see the need to keep partners closely updated about the latest and most relevant market demand trends. Amidst challenging conditions, keeping abreast of changing customer behavior will help us better prepare for recovery.
We present the ZUZU Room Nights Index, based on booking data from over 2,000 hotel partners across the region.
DATA HIGHLIGHTS
With relaxation of domestic travel restrictions and progress made in the containment of COVID-19, most markets across Southeast Asia are on a gradual path of recovery from the lowest point in April. It's encouraging to see this positive trend across multiple markets.

Room nights in Malaysia saw a strong and quick jump starting 1st week of June when MCO restrictions were lifted on interstate travel. Malaysia continued a 100% week over week growth in the 2nd week of June.

Indonesia and Thailand are also seeing signs of gradual rebound, growing ~30% week over week for the first 3 weeks of June.

In Indonesia, cities with essential domestic business demand, like Jakarta, and domestic weekend demand, like Bandung, are doing better than leisure destinations dependent on international travel, such as Bali. 

Relatively faster recovery in Phuket (bouncing back by ~50% from its lowest dip in end April) is driven by long-stay bookings and stays in the upcoming holiday season. European markets make up most of key feeder markets despite travel bans still in place, indicating customer willingness to travel as soon as restrictions are eased.
Room nights index by book day – average trailing 28 days by country (until 21 June)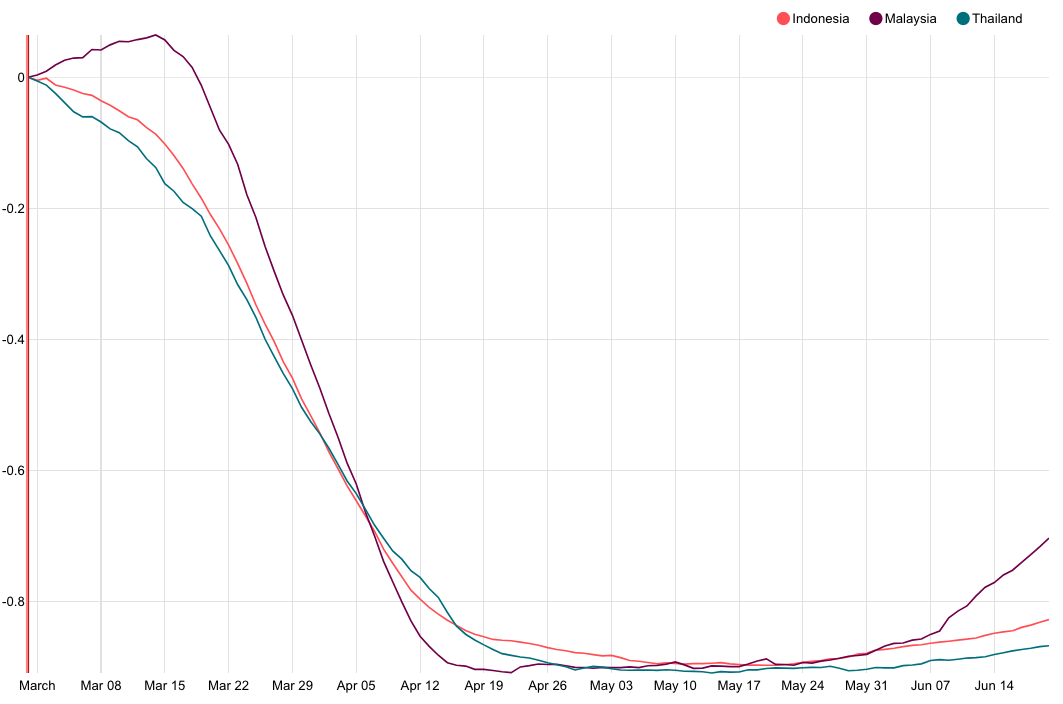 Room nights index by book day – average trailing 28 days by Indonesia cities (until 21 June)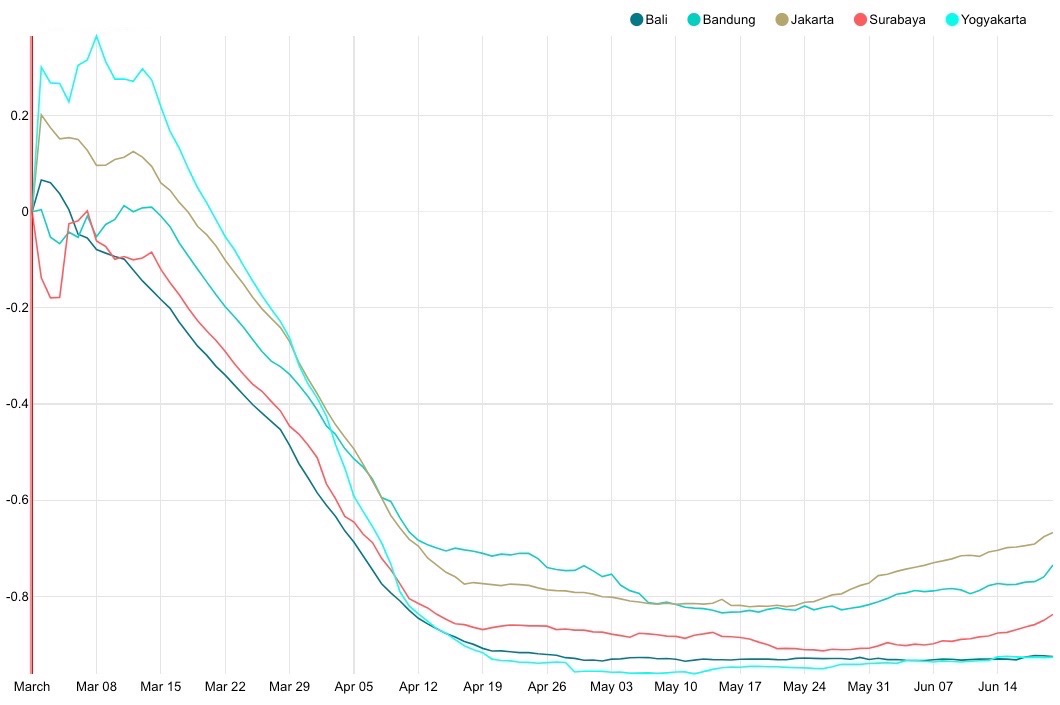 Room nights index by book day – average trailing 28 days by Thailand cities (until 21 June)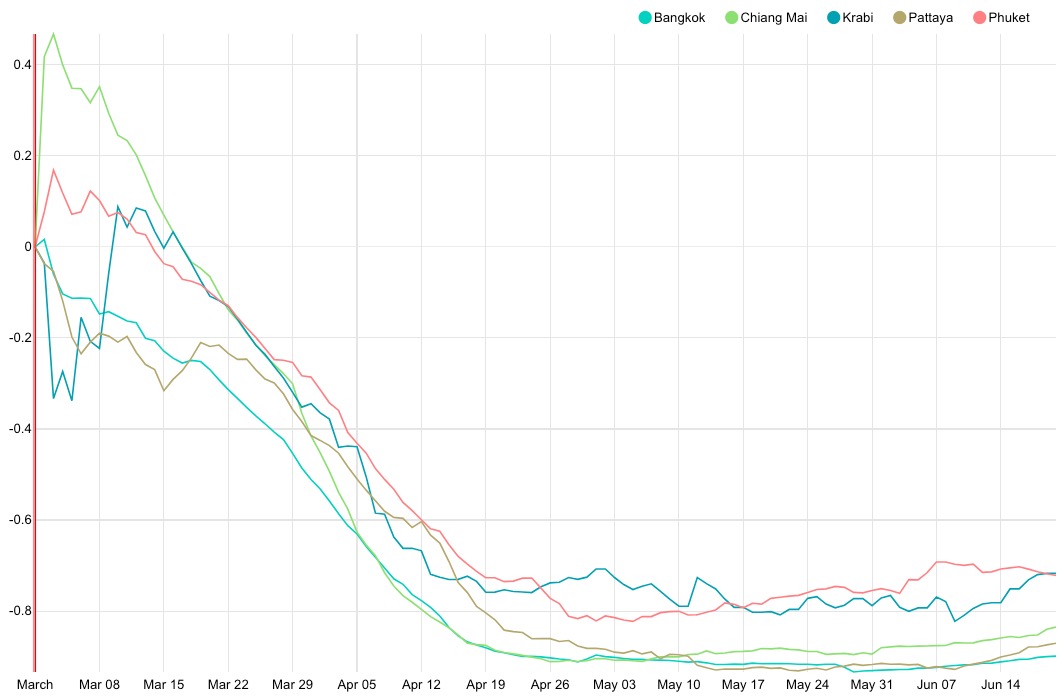 Room nights index by book day – average trailing 28 days by Malaysia cities (until 21 June)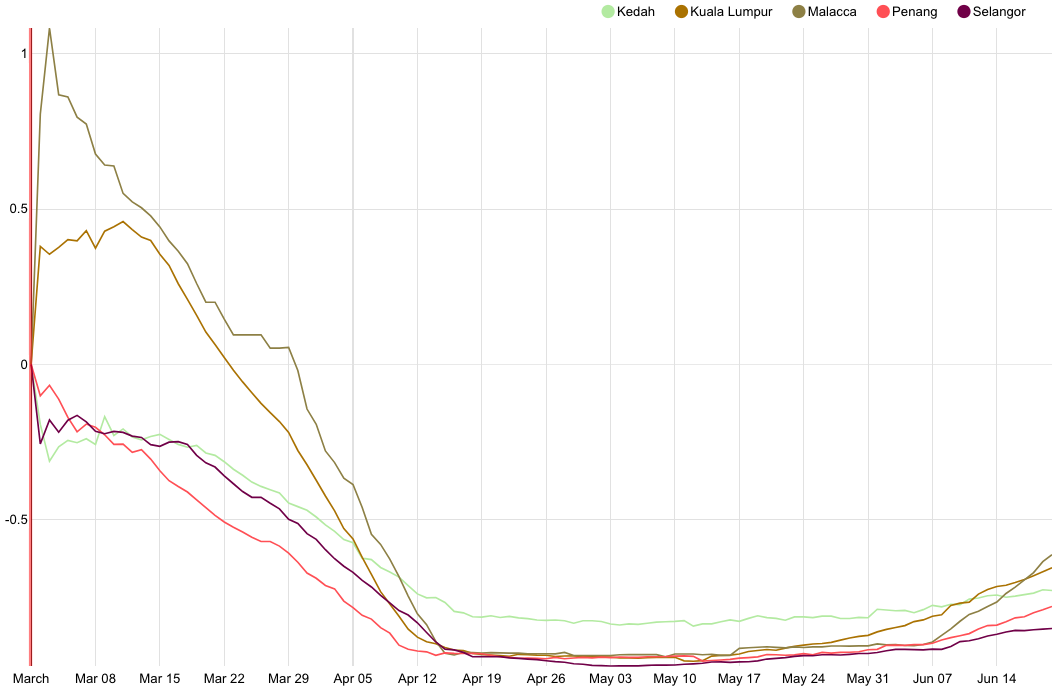 NEWS BULLETIN
Indonesia
Indonesia has resumed domestic flights for all passengers provided airlines operate at 70% capacity and follow strict guidelines imposed on 9 June.

AirAsia has launched flights to Bali and Medan (starting 19th June), but travelers are still expected to get a PCR test done not more than 3 days before departure.

Hotels in cities in Central Java such as Yogyakarta and Solo are still unable to resume operations until further notice. 

Business travel has started improving especially in Jakarta and secondary cities such as Surabaya.

Residents in Indonesia are starting to venture out to areas that are within driving distance of their home city for weekend getaways. Some cities that have experienced increased demand are Bandung, Bogor and Malang.
Thailand
The final list of countries that will be included in the travel bubble is yet to be finalized but the first visitors that will be allowed to enter the country after strict screening processes are businessmen and investors visiting for quick meetings from low-risk countries.

The Tourism Authority of Thailand (TAT) is looking to convert half of the 12 million Thais who had been expected to travel overseas this year into domestic tourists.

Thailand's Cabinet approved three projects with a combined budget of more than 22.4 billion baht ($707 million) to promote domestic travel from July to October. Under the plan, visitors will pay 60% of hotel accommodation bills and the government covers the rest, up to 3,000 baht per night and for no more than five nights. Other benefits include discounts for air tickets and concessionary travel packages for 1.2 million health workers and volunteers.
Malaysia
Malaysia Airlines will open up international routes starting 1st July.

Last week, Malaysia's health director-general, Noor Hisham Abdullah, announced that they were in very early stages of discussions on the implementation of a travel bubble with Singapore, Brunei, Australia, New Zealand, Japan and South Korea.

Domestic tourism has been growing significantly over the last month. There has been an increase in domestic business travel to major cities, especially Kuala Lumpur. 
Vietnam
Focus will be on domestic tourism as travel restrictions for foreign arrivals are imposed until at least 16 September.

Aviation industry has resumed all domestic flights, citing consistent occupancy at 80-90%.

Vietnam Airlines continues to launch new domestic flights. The newest route is Da Nang – Phu Quoc starting on 1 July with 5 flights per week.

International flights are in planning phases with countries including Singapore, Taiwan, Japan, China and South Korea.

Three chartered flights from Japan will carry a total of 440 businesspeople to Vietnam from 25 June through 27 June as travel restrictions are relaxed.