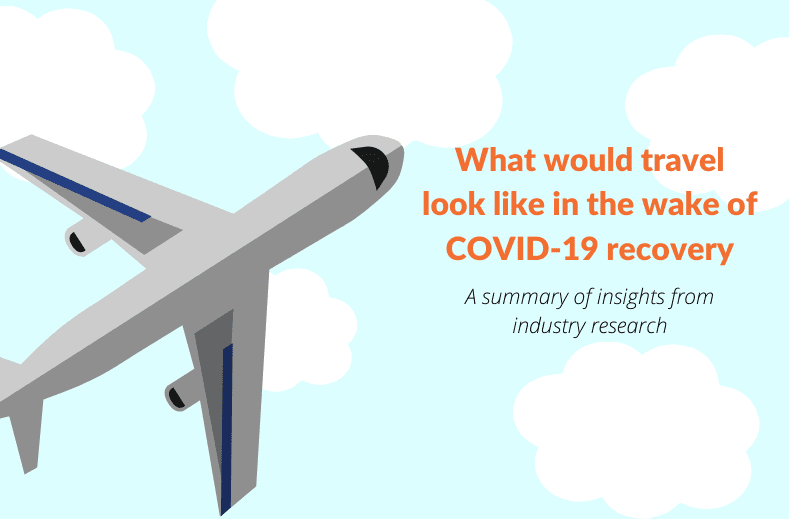 What would travel look like in the wake of COVID-19 recovery – A summary of insights from industry research
As COVID-19 cases continue to rise and fall across the region, and hopes of potential vaccines emerge but remain uncertain, industry speculations about when travel will recover are divergent. Projections are likely to improve in accuracy only when recovery trends prove sustainable and efforts to suppress the pandemic make significant progress. 
Instead of focusing on the when, we want to help our partners focus on the how. What type of guests would hotels see at different phases of recovery? Where would they go and what would they be looking for? How would booking behavior differ from that in the past? There's lots to prepare for and understanding the traveller in a post-COVID world is critical for hotels to tailor their strategy to attract available demand.
Industry experts have conducted surveys in the last few months in an attempt to answer some of these questions and gauge customer sentiments. To help partners save time on doing their own research, we've consolidated insights that are most relevant to the APAC region. 
Before you delve into the interesting findings, here are a few key takeaways from these studies:
Travel recovery will be staggered, with domestic and short-haul picking up more quickly initially compared to long-haul

Sanitisation and hygiene will be the top priority for most travellers, possibly more so than deep discounts, although younger travellers might still value cheaper rates over safety measures

Popular travel themes that can be expected as travel rebounds are outdoor, nature and relaxation, as travellers seek healthy environments to release pent up emotions from prolonged lockdowns

Cancellation flexibility will be very much valued by guests but they are still likely to book closer to planned departure if uncertain conditions continue to persist

Millenials will be amongst the first groups of people to travel, and families and couples will be attracted to weekend getaways in the initial trend of staycations
And here are our recommendations based on these insights:
Focus on ensuring that products and price points appeal to domestic travellers and engage actively with OTAs/distribution channels that are stronger in bringing local demand

Do not blindly lower prices – adopt a flexible targeting strategy and present more attractive offerings to those looking for it

Invest in defining and enforcing proper hygiene practices and ensure that measures are highlighted to travellers on distribution and marketing platforms

Differentiate from competitors and reward guests with unique and memorable experiences – think bundling rooms with value-adds such as dining offers, refreshments, massage/spa, complimentary gym access etc.

Review cancellation policies but do not be over-reliant on advance bookings; refine tactics to capture maximum last minute demand
1. Sabre's APAC Travel Sentiment Survey
For more details: https://www.sabre.com/locations/apac/releases/sabres-apac-travel-sentiment-survey-reveals-6-key-findings-that-the-travel-industry-can-leverage-for-covid-19-recovery/
45% of respondents expect to travel within the next 6 months (following the lifting of relevant travel restrictions) – with Millennials set to travel first

11% indicated they would travel immediately, while 20% said they planned to travel within 1 to 3 months, and 14% said they would travel within a 4 to 6-month timeframe

South Asia has the highest percentage of travellers who indicated that they are keen to travel within a year

(73%), but those in Singapore also demonstrated a strong pent-up demand for travel, with just 14% saying they had no plans to travel

Travellers will be swayed by relaxed safety protocols rather than price

; respondents who indicated that they will travel in the next 6 months are more likely to book destinations with

Temperature screening implemented – 28%

Mask wearing enforced – 25%

Safe distancing enforced – 26%

Contact tracing app measures in place – 21%

More than a third (37%) of respondents said they believed air travel posed the highest risk of infection when travelling, out of which 62% were female

More than a third of travellers (74%) are expected to opt for short-haul or domestic travel

Of the respondents who indicated that they will travel in the next 6 months, 41% said they would opt for short-haul travel (below 8 hours travel time), while 33% said they would choose domestic travel, with the remaining 26% saying they would be travelling long haul or had no preference

More travellers (68%) are expected to book their trips through a travel agent

to save the hassle of pre-travel research

There is strong confidence in international branded chain hotels

Of the respondents who said they had previously preferred to stay in international branded chain hotels (57%), 86% indicated that this will remain their top choice

64% of respondents whose choice before Covid-19 were home stays, boutique hotels, motels or other forms of accommodation indicated their new choice would be international branded chain hotels for assurances of enhanced sanitation and cleaning, and use of new cleaning technologies
2. Google APAC Consumer Survey & Global Web Index (GWI)
For more details:
https://www.thinkwithgoogle.com/intl/en-apac/trends-and-insights/state-travel-apac-identifying-trends-prepare-road-ahead/
https://www.thejakartapost.com/travel/2020/06/09/many-indonesian-travelers-not-planning-holiday-abroad-anytime-soon-survey.html
Travel is a priority for most consumers post-lockdown

45% of people who delayed a vacation due to COVID-19 are planning to prioritize booking a vacation or trip after the pandemic ends

87% of APAC consumers expect to make changes to the way they travel, compared with 67% and 70% in North America and Europe, respectively

Safety is top of mind for consumers around the world, especially as they get older

65% of baby boomers say a personal feeling of safety is by far the top confidence booster for resuming travel

Only 28% of consumers say reopening borders will make them feel confident enough to travel again

A key motivator for booking will be both the flexibility to make changes to bookings and the promotional discounts available to them

While 25% of respondents indicated plans to make more use of promotions, only 15% claimed they were looking for cheaper vacations in the future. This indicates people are looking for more premium travel experiences that are still within their budgets

In Indonesia in particular, 28% of respondents said they would book a hotel room in the next three months if there was a discount offer of at least 25%. Other important factors mentioned were an improvement in hygiene standards (24%), free face masks or sanitizer wipes (21%) and no changes or cancellation fees (16%)

Short-term preferences lean towards domestic and outdoor travel

25–35% of consumers' first trips will be to nearby destinations such as staycations or places within driving distance

More than 50% of all survey respondents said they would travel to a beach or other natural destinations if they were to book travel in the next 3 months

More than 25% of respondents in Indonesia, India, the Philippines and Vietnam said they were planning to travel domestically in the next 3 months; a much higher number compared with respondents in other countries
3. Sojern: COVID-19: Insights on Travel Impact, APAC #53
For more details:
https://www.sojern.com/blog/covid-19-insights-on-travel-impact-apac-53/
Staycations continue to grow in popularity across Asia Pacific

Domestic searches have risen when indexed to April – a low point in search and booking levels across the region

Domestic bookings have also grown considerably since this period and are corresponding to the searches. Taiwan, Australia, New Zealand, Thailand, and Singapore in particular demonstrate this trend

Families and couples demonstrate an increase in domestic hotel booking 

This is particularly true in Thailand, Malaysia and Taiwan. Across these countries, with the re-opening of hotels and resorts, families and couples are seen to be making domestic weekend getaways

In Malaysia it has been found that occupancy at hotels for weekends seem to be high, with most of the bookings coming in from the busy professionals based in Kuala Lumpur
4. Wego APAC Survey: Post-Lockdown Travel Trends in APAC
For more details:
https://blog.wego.com/wego-apac-survey-post-lockdown-travel-trends-in-apac/
71% of respondents have post-lockdown travel plans

Around 56% of respondents are looking to travel within the next three months, while 13% are opting to travel later in the year

39% of the respondents plan to book flight tickets and hotels when international flights resume

More than 57% of Taiwanese respondents said they would buy plane tickets and hotels when international flights resume

The majority of Malaysian respondents (42%) also stated that they would book their holiday when international flights return

On the other hand, only 22% of Indonesian respondents intend to do so. Most Indonesian respondents would book flight tickets and hotels when city lockdowns are lifted and as soon as domestic flights resume

32% of APAC respondents expressed their interest in family holidays, while 27% are looking forward to having a relaxing staycation

Other types of trips that are also in demand are nature and adventure trips (18%) and hometown-bound trips (%)

Around 33% of Singaporean respondents said that they would go for a staycation or relaxing getaway once the situation has improved
5. Trip.com Group x Google Travel Trends Report
For more details:
https://www.webintravel.com/most-travellers-in-asia-pacific-will-choose-short-haul-trips-first-for-post-pandemic-travels/
Over 70% of the consumers are looking for short haul trips within the region

Top 20 short haul destinations for upcoming trips are Bangkok, Seoul, Shanghai, Jeju, Tokyo, Bali, Manila, Busan, Xi'an, Kuala Lumpur, Osaka, Penang, Da Nang, Bintan, Taipei, Singapore, Pattaya, Hong Kong, Phuket and Macau

Free cancellations are by far the most important offering for consumers

On average, 57% of the consumers considered this as a key motivator for their next booking. Second, 27% of the consumers care about the pre sale promotional offers, and third 25% of the consumers value insurance coverage
6. Unravel Travel: Fear & Possibilities in a Post Coronavirus (Covid-19) World by Blackbox Research, Dynata and Language Connect
For more details:
https://www.ttgasia.com/2020/07/28/asians-most-confident-to-resume-travel-survey/
Countries are measured on a travel confidence score, by considering two indicators: how comfortable a person is to travel internationally in the next 12 months, and how well-prepared they feel about their country reopening its tourism and leisure activities

Asian travellers have shown more confidence about travelling in the new normal, as compared to their Western counterparts

With a score of 76, India and Thailand are tied for top place with the most citizens confident of travelling in the new normal

Asian countries dominated the list of countries that scored above the global average of 61, including China (69), Indonesia (65), and Singapore (64). France, Germany, and Denmark also rated above the global average

At the other end of the spectrum, Japan rated the most cautious with a score of 40, followed by the Philippines (43), and Hong Kong (50). Other countries that scored below the global average included Sweden, New Zealand, the UK, Canada, and the US

International leisure travel in the short-term is off the schedule for most people

44% of respondents are still keen to avoid international vacations. Notably, Japanese (32%), Filipinos (42%), New Zealanders (43%), and Australians (52%) are least eager to take long haul trips

Travellers are also looking to minimise contact during transfers as much as possible

66% prefer to travel in their own vehicles for road trips between cities or countries, compared to travelling on a plane (18%), rented or private-hire car or taxi (9%), and buses and trains (7%)

Safety is now a top priority

Globally, 80% are willing to pay more for safer accommodation, while 74% are open to paying a higher premium for travel insurance in exchange for protection against pandemics
7. TNMT: East Asian (China, South Korea, and Japan) traveler sentiment survey
For more details:
https://tnmt.com/five-key-findings-from-an-east-asian-traveler-sentiment-survey/
East Asian travelers are willing to travel again, but most current trips tend to be domestic, short, and self-guided

Most people prefer domestic over international travel (77% vs 35%). Locals in the three regions perceive their home countries to be safer than other parts of Asia

Single biggest deterrent for overseas travel is the 14-day quarantine required on arrival, or upon return, or both

Short trips with a duration of 2-3 days or weekend getaways are favored over longer trips (70% vs. 44%) to reduce the likelihood of infection

Three groups of travelers observed with differing levels of confidence about resuming their travel plans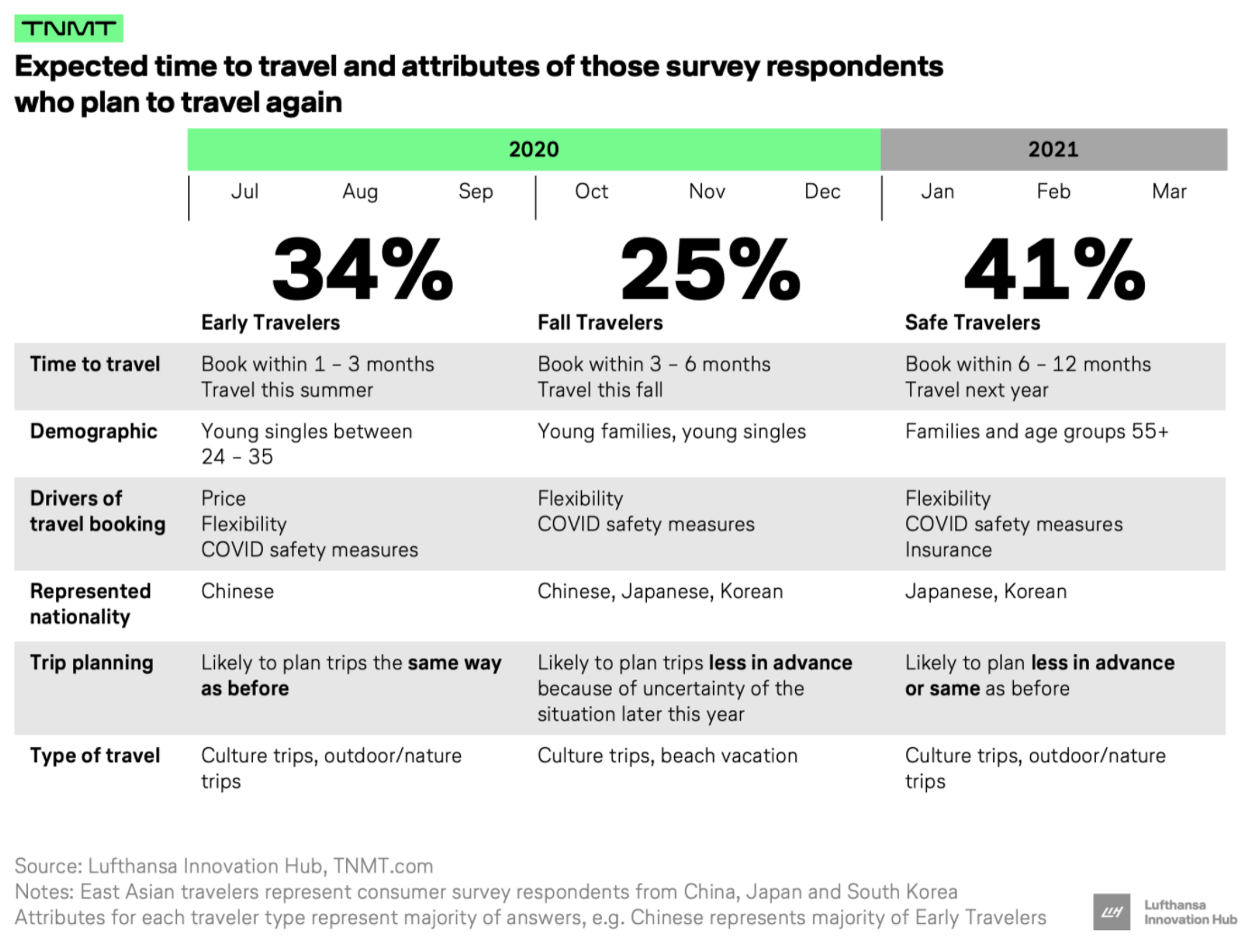 34% of respondents are already planning to travel within the next 3 months, comprising mostly of Chinese tourists who are price-sensitive young singles aged 24 – 35 who value price over flexibility in booking and COVID safety measures

25% of respondents said they plan to travel within the next 3-6 months, some of these young families that value flexibility in re-booking and cancellation, and likely to book closer to the actual trip date than usual

Majority of Japanese and South Korean respondents fall into the Safe Travelers category, and they show a higher willingness to travel internationally than the Chinese participants which explains why they would rather defer their travel plans to next year since overseas travel is still restricted

Last-minute booking could become the new norm

Offering flexibility in cancellations does not guarantee that travelers will book in advance; 43% of travelers say they will book less in advance than usual

Unwillingness to book flights ahead of time could be attributed to the extremely affordable flight tickets that can be secured even 1 to 2 days before departure, and the desire to avoid the hassle of reimbursement processes

Key drivers of travel decision vary significantly across countries

Chinese and Japanese travelers value price, while Korean tourists prefer to buy travel insurance to increase their sense of security

Outdoor nature (84%) and culture trips (76%) are gaining popularity among the vast majority of Chinese tourists, while shopping (69%) is still top of mind among Korean travelers
8. Tripadvisor Research Paper: Beyond COVID-19: The Road to Recovery for the Travel Industry
For more details:
https://www.tripadvisor.com/Covid19WhitepaperMay2020#group-accommodations-NG7F0K8gGe
Note: This is a global research, not APAC-focused
The travel sector will see phased recovery, marked by five distinct stages

In the Decline stage (travel declines sharply), early signs of resilience in consumer mindset towards travel were displayed, with many expecting to reschedule trips

Over a third (34%) of consumers surveyed in late March reported rescheduling a trip due to COVID-19 rather than canceling it, with another quarter (27%) planning to reschedule a canceled trip at a later date

Two in five (40%) reported making changes to their trip as a result of the travel restrictions in place or because their chosen destination was closed for visitors, i.e. their decision was not necessarily by choice. 

In the Plateau stage (sharp decline in bookings levels out), there were signs that consumers still wanted to remain in a travel mindset

In April, over two thirds (68%) said they were still thinking about travel and where they wanted to go next. A third (32%) said they were more likely to be watching videos about destinations they want to visit, and nearly a fifth (18%) were more likely to be watching travel shows and/or documentaries

The Emerge stage (easing of travel restrictions begins, early signs of recovery in dining sector) will initially tempered by concerns about cleanliness and safety

Nearly nine in ten (86%) consumers say cleanliness will be very important when selecting an accommodation after COVID-19, with the provision of hand sanitisers and sealed amenities, the frequency with which rooms are disinfected, and the use of temperature checks for employees and guests all now cited as top considerations

This is followed by the Domestic Travel stage, when consumers book trips away for the first time but stay close to home

Nature and beach destinations are early beneficiaries of increasing demand, as consumers opt for relaxation and outdoor space

The last stage of recovery is International Travel, where consumers strong show desire to return to international destinations when they are able to do so

but increases in travel will depend largely on destination preparedness