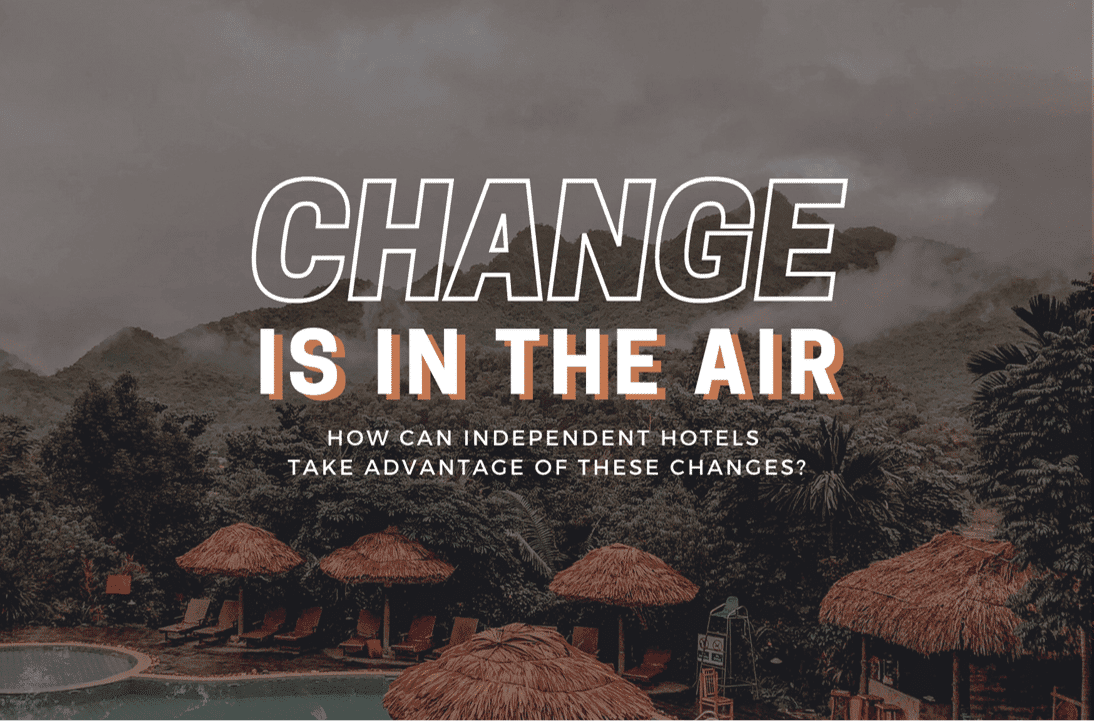 Even as the travel and hospitality industry struggles to establish the long term impact of Covid-19, one short term impact on the business is clear – a notable shift in traveller segments driving demand.
The travel distribution channels, especially online travel agencies (OTAs), are adept at shifting their strategic focus based on such demand changes. We have seen OTAs – international, regional, and local – reorganize and realign their resources, marketing, and product to make the most of the opportunities presented during this pandemic. The big question in our mind at ZUZU is whether hotels, especially independent hotels, with limited resources, technology and access to data, are well prepared to adapt to the changing travel space.
In our quest to empower independent hotels across Asia, we highlight in this article some of the emerging trends that'll be helpful to our partners and other independent hotels in optimizing their revenues in the next few quarters. 
In our bookings data, for over 2,500 hotels across 6 countries, we see significant movement in the market share of various OTAs. The chart below shows the percentage change in gross booking value (GBV) of the top 5 OTAs for three quarters before and after Q4 2019 compared to Q4 2019 GBV (last full quarter without any Covid impact). While the GBV change has varied for each OTA before the pandemic, it was generally within a relatively narrow band of +15% to -15% in the first 3 quarters of 2019. However, in the 3 quarters since the start of the pandemic OTAs grew incredibly unevenly resulting in a wider band of +80% to -50%.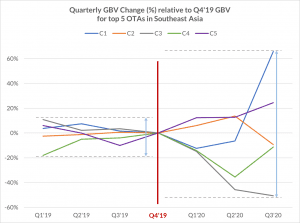 This varied growth has resulted in big OTA market share shifts in a relatively quick time given these market shares hadn't materially changed over the last few years. Given that most of the travel has been domestic led in the past few quarters, it would be easy to assume domestic OTAs gained market share while international/regional OTAs  suffered. However, the data does not entirely support this simplistic assumption. Most large OTAs are well-oiled marketing machines and have shifted marketing spend to capture relevant domestic demand sources. It is therefore quite important for hotels to understand the nuances of this shifting OTA market share, especially at country level.
The charts below show the market share trend for key OTAs in various markets.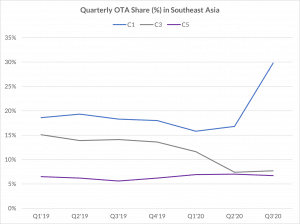 C1, a regional OTA, has doubled its share from 15% in Q1'20 when the pandemic began to 30% in Q3'20. On the other hand, C5, a predominently local OTA, and C3, an international OTA, have dropped in market share. C3 halved its market share from 14% to 7% within the last 3 quarters.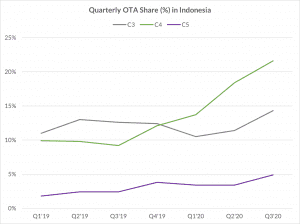 In Indonesia, not surprisingly, market share of C4 and C5, predominantly local OTAs, have almost doubled since Covid pandemic started. But, the market share of C3, an international OTA, has also grown by over 40% since the beginning of the pandemic.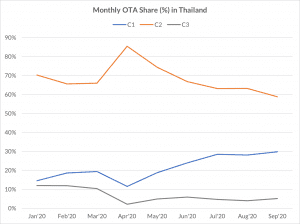 In Thailand, the dominant OTA, C2, initially gained share in Q2 but has since lost share to C1 as the domestic demand continues to drive most of the travel bookings.
So, what do all of these changes mean for independent hotels in Southeast Asia? How should independent hotels adopt to take advantage of these shifts? What specific actions should the hotels be taking to increase demand from higher growth OTAs?
Here's our take on these important questions facing independent hotels:
Diversify, diversify, diversify – Diversification of distribution channels has always been an essential piece to increasing revenue for independent hotels. The more OTAs a hotel works with, the more chances it has to attract travellers across the globe. Given the time and effort required to add and manage OTAs, most independent hotels preferred to work with only a few OTAs that drove high volumes. But, with the changing OTA landscape, those demand volumes have quickly shifted underlining the need to work with a diverse group of OTAs. As independent hotels struggle to survive during this pandemic, having access to all the right demand channels becomes critical for their survival.
Actively manage OTAs – Think of OTAs as big crowded malls and hotel listings as stores in those malls. All stores are selling a similar product and competing for the same customers in the mall. The stores that will get more buyers are the ones that stand out in one way or the other. On OTAs this means ensuring a hotel listing has the best possible pictures, most accurate content, competitive pricing, attractive promotions and good traveller reviews. The hotels that are best at managing OTAs do these activities consistently and frequently on every OTA with which they work.
Adopt technology –  Managing distribution channels, even with the help of technology, takes a lot of time and resources. Not using technology makes it almost impossible to partner with, and manage, a diversified set of channels. At the minimum a basic channel manager and property management system is required to effectively manage all channels. This way the hotel resources can focus on improving operations and delivering a great guest experience rather than spending time on manually and inefficiently managing availability and changing rates.
Let the professionals help you! We realize all these activities, to properly manage and optimize online distribution, are easier said than done. The big hotel chains make significant investments in expertise, technology and resources to optimize online distribution channels. However, an independent hotel can't afford to make those investments. This is why we've been able to prove that independent hotels should partner with ZUZU Hospitality to grow their revenue, and simplify their operations. ZUZU offers a combination of software and service to help independent hotels with distribution and revenue management, and seamlessly integrating those activities with their hotel operations. With ZUZU doing the work, our hotel partners can focus on being great hoteliers.
Learn more about ZUZU or contact us to have a chat!