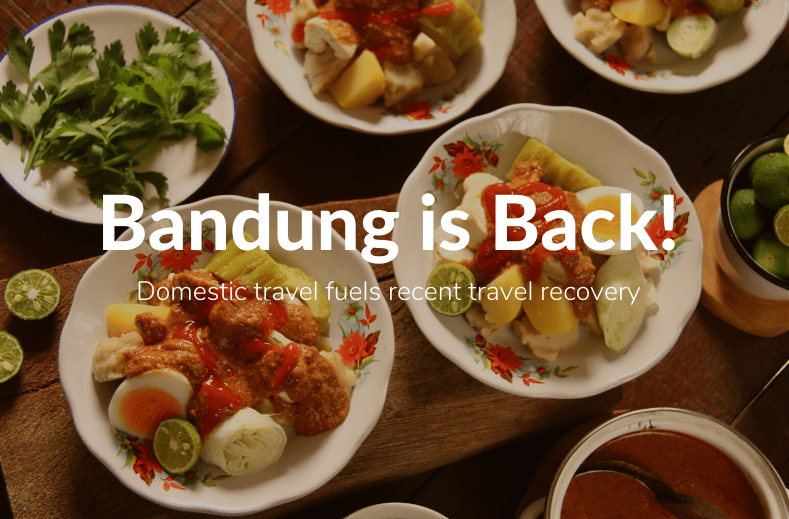 We continue to see positive signs of recovery driven by strengthening demand for domestic travel. In contrast, markets that are largely reliant on international traffic lag behind as countries are taking measured and conservative approaches in reopening their borders.
DATA HIGHLIGHTS
Bandung has recovered to 80% of pre-crisis levels.

Jakarta continues to see sustained improvements on the back of growing domestic demand, with an average week-on-week growth of 11% in the last 4 weeks (15 June – 12 July).

Bali pickup continues to be slow although recent announcement of plans to reopen borders to international tourism in September might provide a much-needed boost.

Chiang Mai, Hua Hin and Phuket room nights at their highest in the first week of July since April, as locals gravitated towards staycations for the long holiday between 4-7 July, since outbound travel is still restricted.

Among top Malaysia destinations, Malacca and Penang show the strongest recovery from their lowest points in May, delivering an average week-on-week growth of 25% and 11% respectively in the last 4 weeks.

Thailand's week-on-week growth across the last 4 weeks at ~12%, with Indonesia and Malaysia making progress at a comparable pace of ~10%.

All 3 markets are on steady upclimb to reach booking levels achieved previously in April.
Room nights index by book day – average trailing 28 days by country (until 12 July)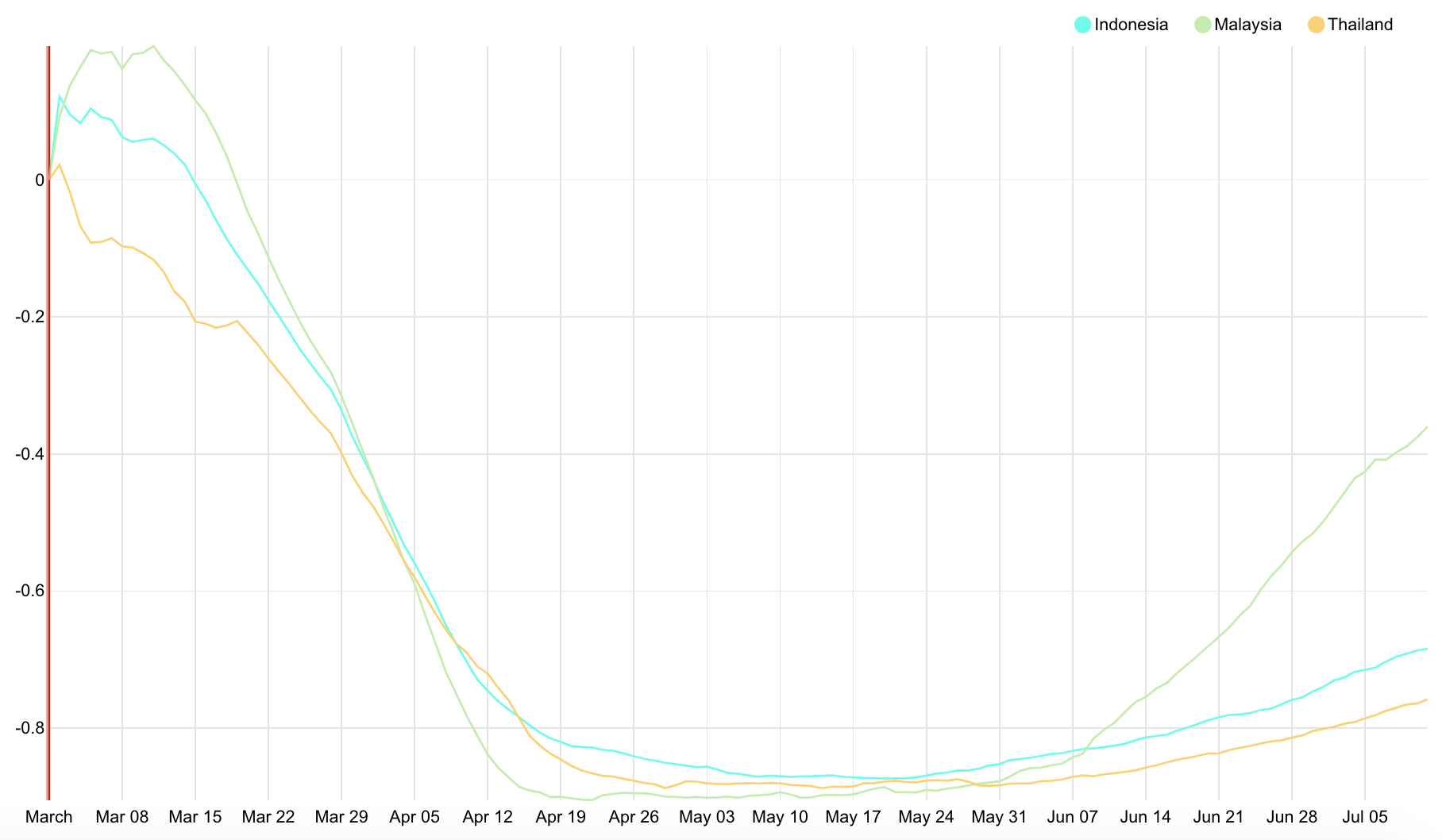 Room nights index by book day – average trailing 28 days by Indonesia cities (until 12 July)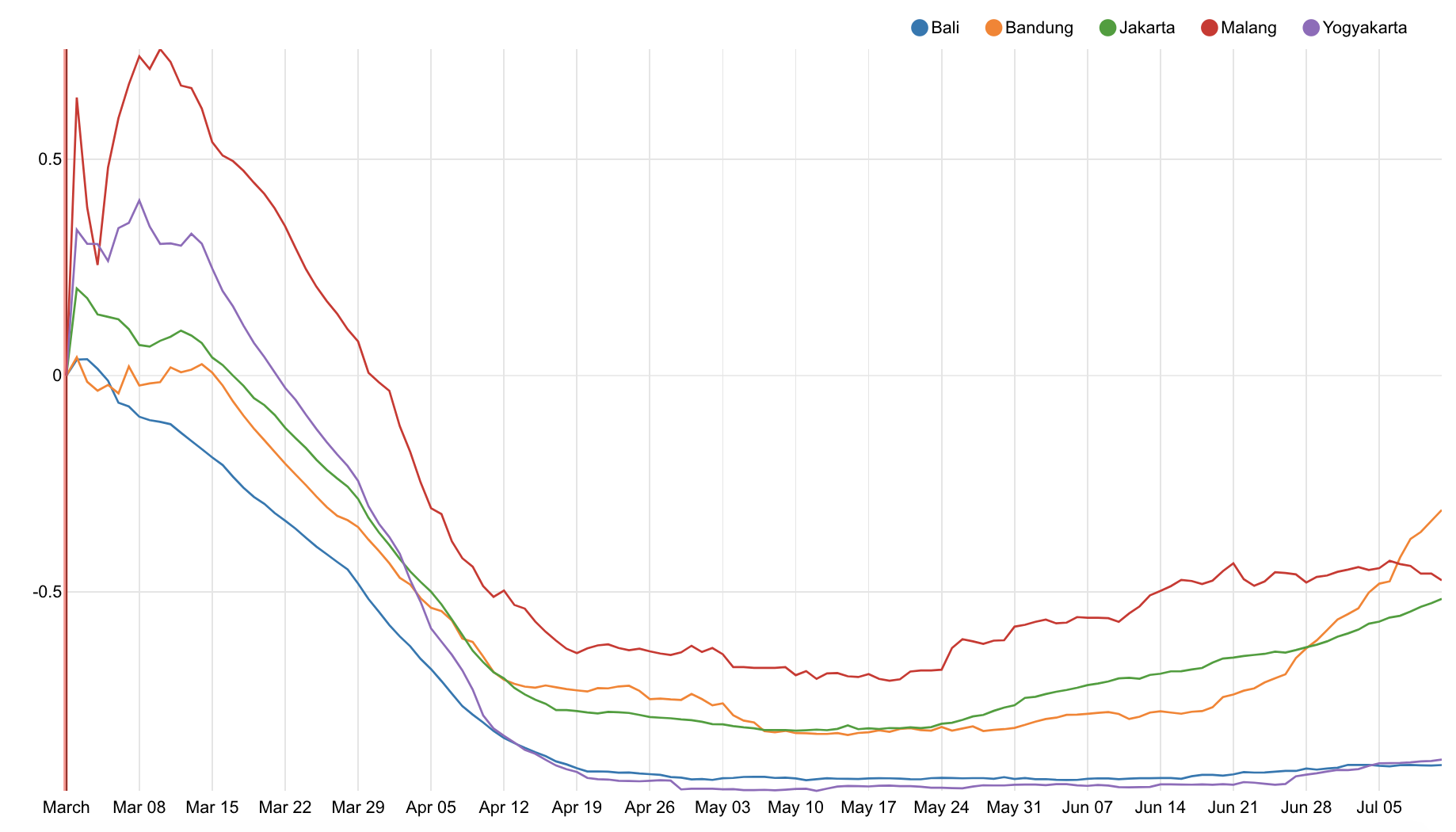 Room nights index by book day – average trailing 28 days by Thailand cities (until 12 July)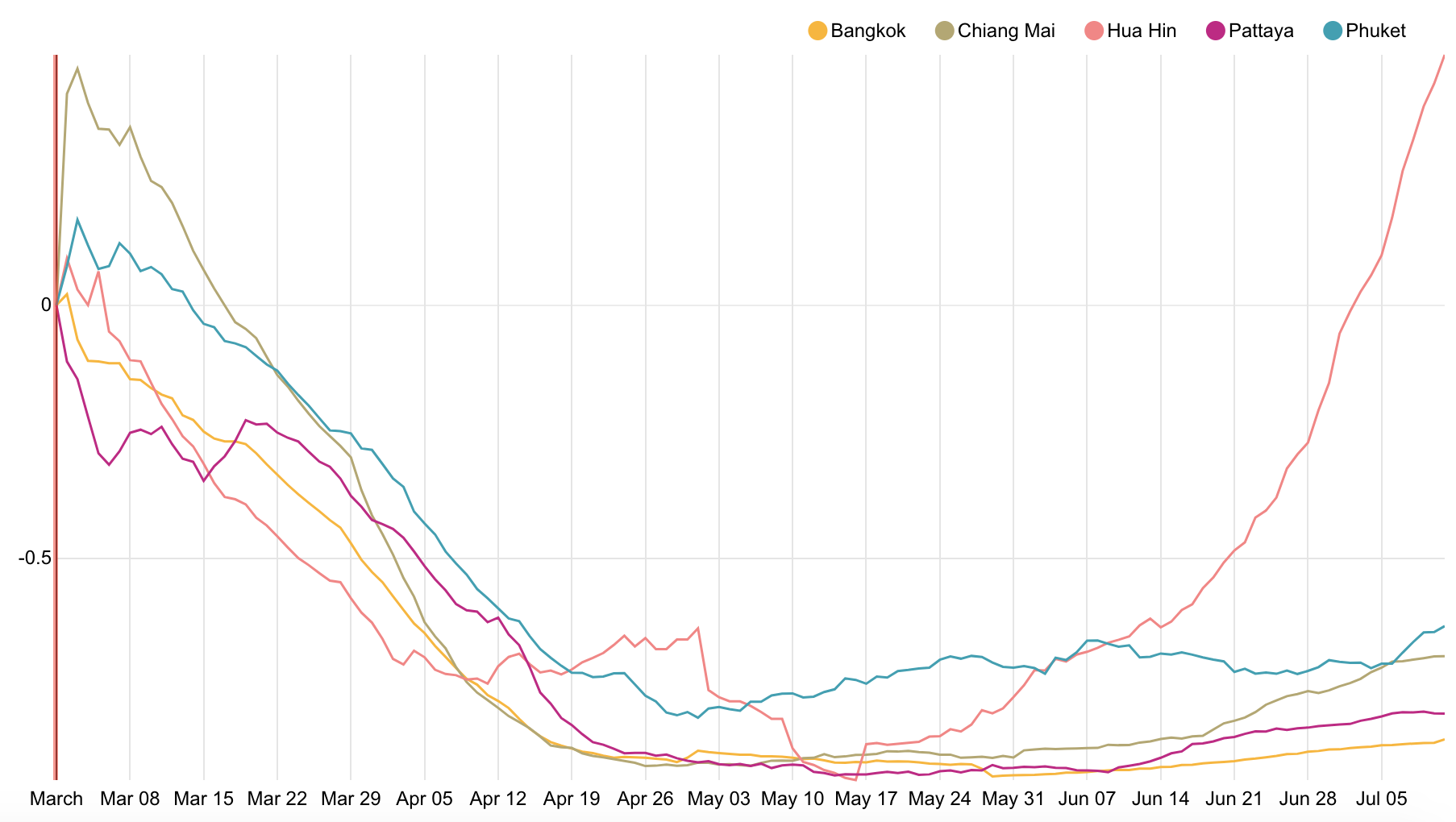 Room nights index by book day – average trailing 28 days by Malaysia cities (until 12 July)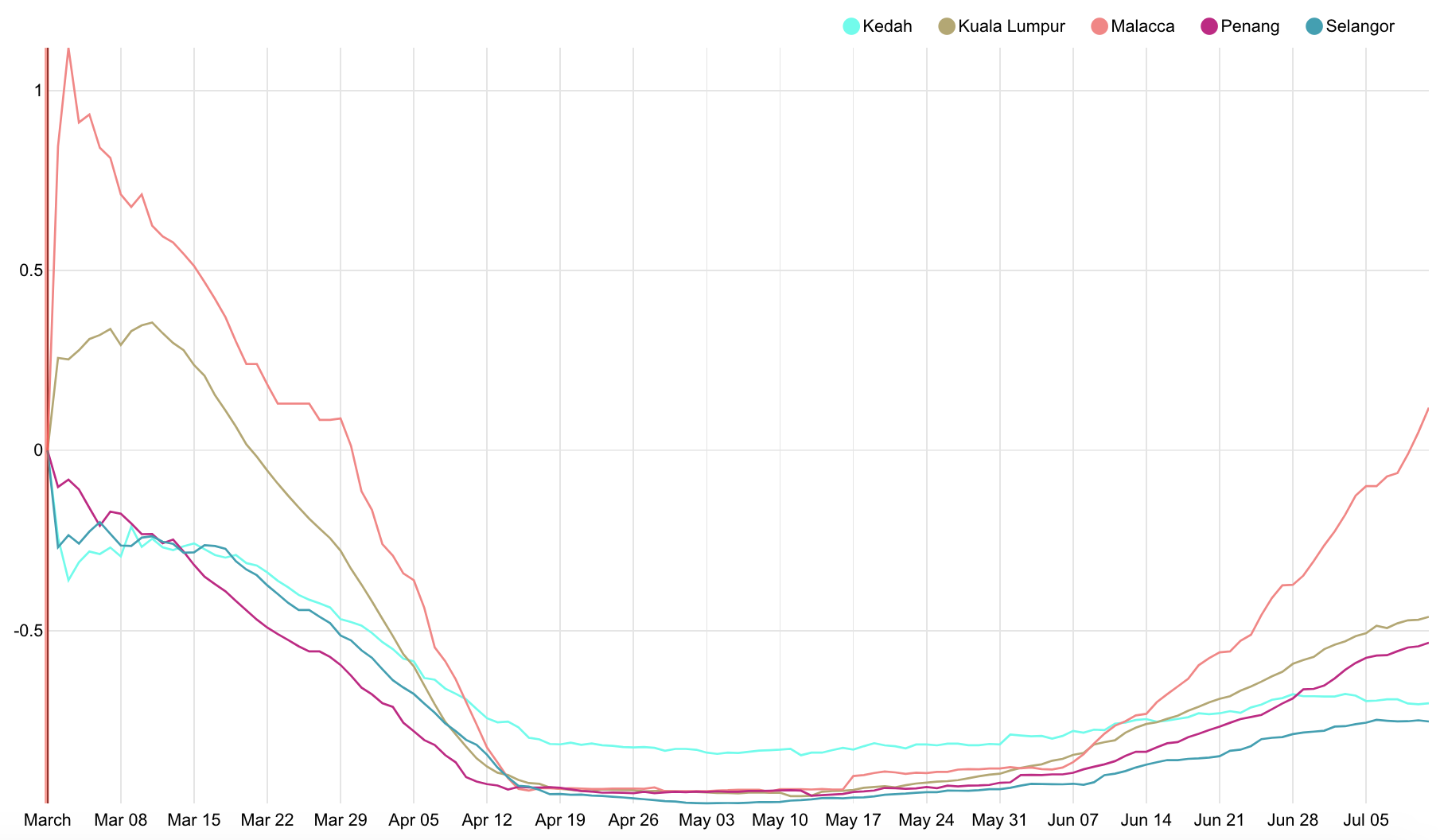 NEWS BULLETIN
Indonesia
Demand in Indonesia has been increasing steadily. The biggest drivers of this growth are Jakarta, Bandung, Surabaya and Bogor.

Domestic tourists are focussed on weekend getaways in cities that are within driving distance from their home.

Bali has eased domestic restrictions and tourists are now asked to take a PCR test as opposed to a swab test, as previously required.
Thailand
The Thai government has issued domestic tourism stimulus package's "Rao Tiew Dauy Kan" (We Travel Together) worth 22.4 billion baht (US$718 million)  to revitalize its tourism industry. The scheme registration starts July 15 and entitles 5 million Thais to discounts on hotels, eating out and rebates on flight tickets. The subsidies will be available from July to October 2020.

The travel bubble programme with partners including China, Japan and South Korea, which was expected to be ready by August, may be delayed due to recent recurrence of COVID-19 outbreak in these countries.

Thai AirAsia is planning to add Suvarnabhumi to their existing flight schedules out of Don Muang, in a bid to compete directly with Thai Vietjet Air and Thai Smile who already fly out of both Bangkok airports. In addition, it is also set to start flying to and from Hua Hin to Chiang Mai and Udon Thani in August.
Malaysia
According to the Minister of Tourism, Arts and Culture, hotel occupancy surged to 30% in June, vs. just 10% in May. 

Penang and Malacca continue to be favored destinations for weekend getaways, as more tourist attractions begin to open up.

Singapore and Malaysia have set August 10 as the target date to start cross-border travel between the two countries for some residents and business travellers.
Vietnam
With Vietnam's borders remaining closed as a Covid-19 preventive measure, foreign visitor numbers in H1 dropped 56% year-on-year to 3.7 million.

Vietnam Airlines considers reopening flight routes between Vietnam and Laos as both countries have seen success in eradicating Covid 19 out of their borders.

Saigon boat owners staying afloat with river tours targeted at local clientele. After only five days in operation, Indochina Queen has welcomed 500 visitors, which is a positive sign.

Russia looks to resume flights to 13 countries, including Vietnam. T'way Airlines to resume one-way flights from Vietnam to Korea on 22 July.